If someone were to ask you which class was the most useful to you as an adult, how would you answer? According to a 2013 GALLUP poll, Americans stated that math was the most beneficial subject to them, followed by English, Science, and History.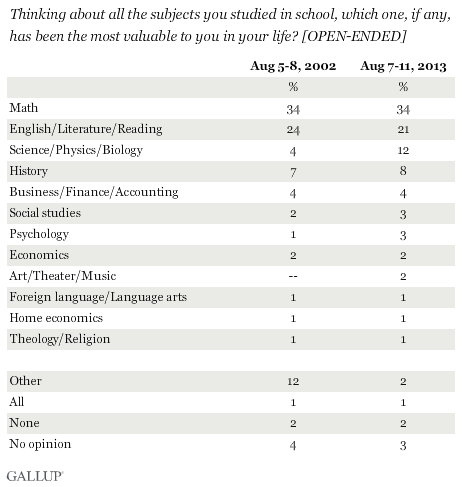 As you can see, only 8% of Americans stated that History was useful and a mere 3% listed Social Studies as useful. It doesn't define Social Studies, whether it's distinct from History or not, but it's clear that History is not useful to Americans. Why is this? Is it because History is not taught as being important? Is American History becoming the forgotten subject?
National Legislation
Let us go back in time and briefly analyze the educational priorities set at the federal level. The Elementary and Secondary Education Act (ESEA) was passed in 1965. The purpose of this bill was to enable all students to receive "a fair, equitable, and high-quality education, and to close educational achievement gaps."
The academic standards section explained that states "shall have such academic standards for mathematics, reading or language arts, and science, and may have such standards for any other subject determined by the State." It continued to state that measurable objectives and assessments must be established for these subjects.
States were not required to set standards for History, Civics, or Government; these subjects presumably fell under the "other subjects" category.
American History, Civics, and Government are addressed later in the bill under title II, part B, and subpart three. This section authorized the Secretary of Education to create and fund grants designated to improve the quality of social science education and were available to twelve entities. Each entity offered professional development to teachers of American History, Civics, and Government.
According to ESEA, entities were able to offer professional development for teachers, between 50 and 300 each year. Considering the 746,000 secondary teachers in 1966, who teach subjects like American History, Civics, and Government (table below), that means between 600 and 3,600 teachers or between 0.52% and 3.15% of secondary social science teachers could be trained each year.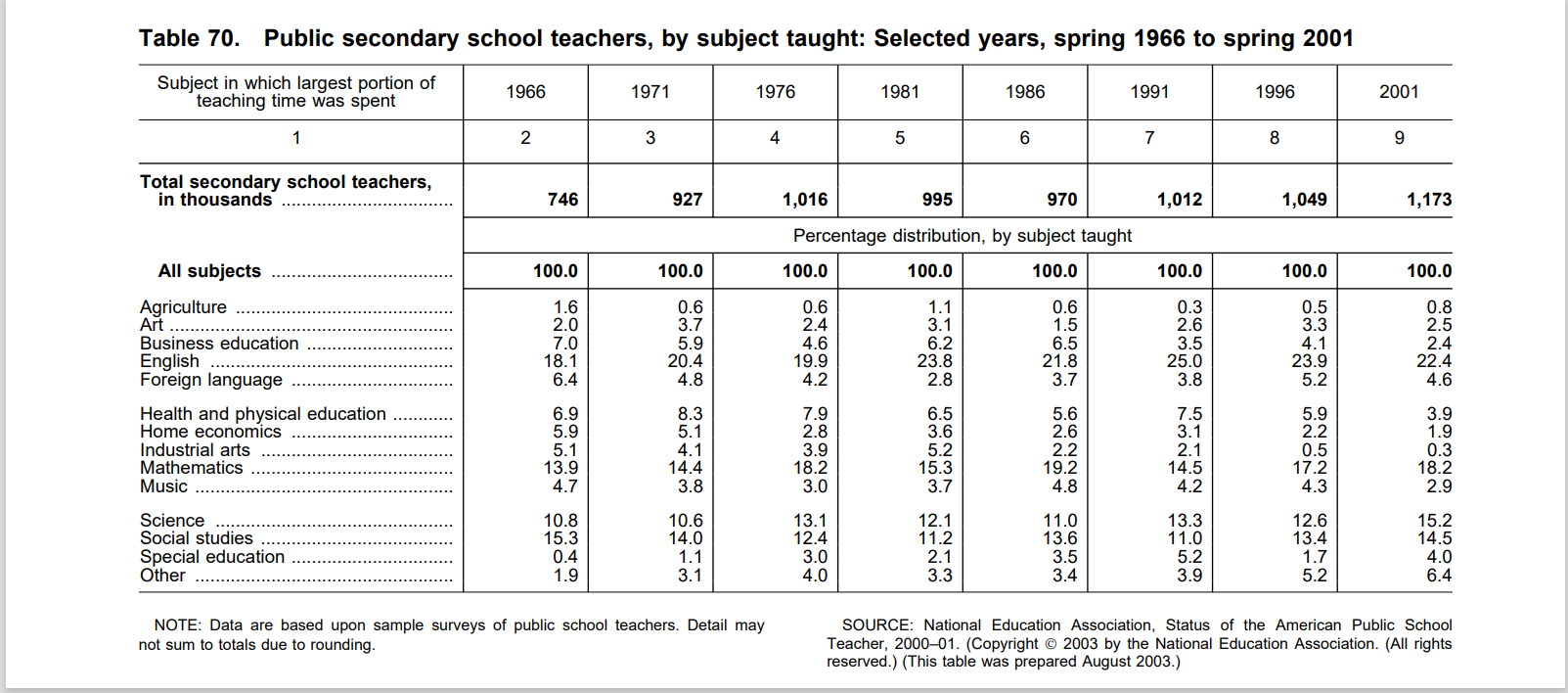 In 2001 the No Child Left Behind Act (NCLB) replaced ESEA with modifications and new requirements to aid students in meeting high academic expectations. Like ESEA, NCLB made it mandatory for the states to have academic standards and measurable objectives for math, reading or language arts, and science. No such requirement existed for History.
NCLB did offer local educational agencies (local school boards or districts) grants to strengthen American History programs and engage in professional development, known as the "Teaching American History Grant Program." According to the U.S. Department of Education, several school districts throughout the country received grants from 2001 to 2010.
In 2016, Every Student Succeeds Act (ESSA) replaced NCLB. It made some commendable changes to the existing law, such as requiring states and districts to create report cards and dictate how much money is allocated for each student. ESSA continues to mandate that states have academic standards and measurable objectives for math, reading/language arts, and science, but ESSA removed the "Teaching American History Grant Program."
ESSA regressed back to the 1965 model of providing grants to twelve institutes who can create academies and train no more than 300 teachers each year. In the 2015/2016 school year, there were about 151,400 secondary social science teachers. That means between 0.4% and 2.4% of those teachers were able to receive professional development through a federally funded academy. Under ESSA, it could take up to 250 years for every secondary social science teacher to receive professional development.

What does all this mean? It means that while American History is given a nod in federal legislation, it doesn't have a full seat at the table. It is not recognized as being as important as math, reading/language arts, or science. Students are not tested in American History and states are not required to set academic standards. One study from 2012 indicated that just nine states required students to pass a social studies exam to graduate high school. Another study highlighted the lack of support social science teachers have, citing that a mere 37.9% of Civics/Government teachers received intensive professional development or support from a mentor.
Test Results
The National Assessment of Educational Progress (NAEP) produces The Nation's Report Card. This report card is one location where the general public can locate assessment results.
In 2014, only 19% of eighth-graders scored at or above proficient in U.S. History and 25% scored at or above proficient in Civics. In 2018, a mere 15% of eighth-graders scored at above proficient in U.S. History and 24% scored at or above proficient in Civics.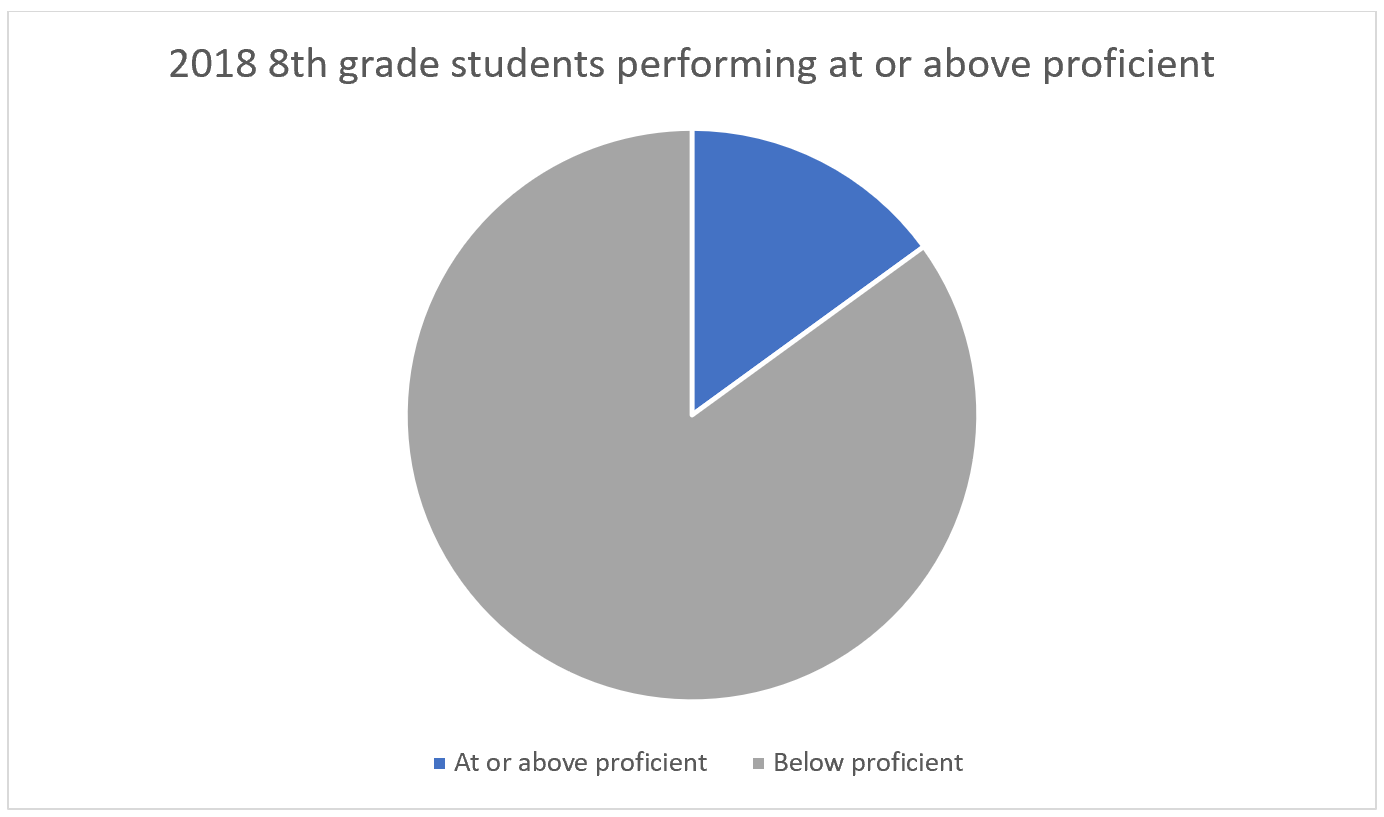 American History appears to be the forgotten subject in American schools. Frankly, those statistics are discouraging for many reasons, but why are students performing so poorly? One reason appears to stem from the emphasis placed on other subjects, whose assessment results will be reported to the public.
Ramifications of 'Test Teaching'
In a Perspectives on History article, 88% of elementary teachers reported that history was a low priority and 63% of elementary principals reported that its importance "paled in comparison" to other subjects like math or reading due to the pressure of standardized testing. In fact, the article explains that history completely vanished from schools that were behind in their Adequate Yearly Progress.
If schools were struggling to bring their math or reading scores up within their allotted time frame, history was entirely eliminated to make room for more math or reading time. They were teaching to the year-end test, or test teaching.
Legislation should be emphasized on instituting nationwide assessment of American History, Government, and Civics. Grants should be created and made widely available to improve education in these areas because a nation that doesn't know its own history is destined to repeat its failures.
-By Dan Ansaldo